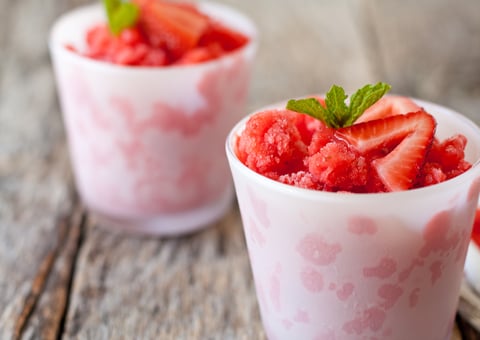 Strawberry Lemon Granita
Ingredients
1 cup water
3/4 cup sugar
2 lemons; juiced (about 4 tablespoons) *see not below
3 cups sliced hulled strawberries (about 1 pound whole berries)
Directions
1. Make a simple syrup by combining the sugar with 1 cup of water in a saucepan. Place over medium heat and heat until the sugar in completely dissolved; swirl the pan occasionally. Let cool.
2. Place strawberries and lemon juice into a blender or food processor until smooth.
3. Pour the cooled simple syrup into the strawberry and lemon puree and blend to combine.
4. Pour the mixture into a 9×13 metal or Pyrex baking dish and place in the freezer for about 30 minutes. Ice will begin to form along the outer edges of the pan. Using fork, stir icy portions into middle of pan. Freeze until mixture is frozen, stirring edges into center every 20 to 30 minutes for about 3-4 hours. Using fork, scrape the granita into flaky crystals. Cover tightly and freeze.
5. If desired, serve with fresh berries and a sprig of mint.
Note: The juice of two lemons will give you a well balanced flavor, if you are looking for more of a lemon kick, feel free to add more lemon juice.
Esta receta esta en mybakingaddictions.com